FYI: Concrete Cleaning
Dirty concrete leaves walkways looking unattractive and potentially dangerous when coated with slippery dirt and grime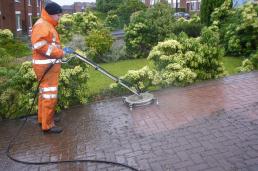 Periodically cleaning your concrete as part of its regular maintenance will both enhance its beauty and extend its service life. It can often be difficult to tell when your concrete is in need of a cleaning, as dirt and grime can slowly build up over a long period of time. However, when you finally do clean your concrete, it becomes extremely obvious how dirty it was as an entire layer that was hiding the true appearance of your concrete will get washed away.
There are several ways to clean concrete depending on the type of surface and the purpose that it serves. Each method requires a different procedure to avoid damaging the surface. When homeowners and business owners invest in their own power washer, which are commonly available and generally very high-powered, real problems can result. For this reason, it's important to trust professionals to carefully and safely power wash away any unsightly dirt and grime on your concrete.
Contact the experts at Bravo Concrete Maintenance when you're finally ready to see the beautiful concrete that is hiding underneath months, years or decades of buildup! We specialize in faded and dulled stamped and decorative patios and other concrete surfaces that need to be restored to their original beauty. Give us a call today at (716) 834-2454 for your free estimate.