Why Seal Concrete Driveways?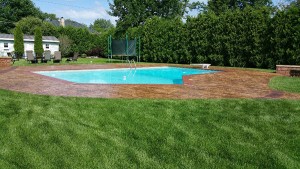 In order to save yourself from costly repairs in the future, it's a smart idea to look into some ways to increase the longevity of your property and exterior surfaces. It only makes sense to maintain what you own instead of waiting until it needs fixing! Concrete is one of those surfaces that adds curb appeal and value, but it can decrease when not maintained properly.
Your concrete surfaces may last for years before they show signs of deterioration, but once that process begins it's too late to prevent it and reverse the damage. Sealing your concrete driveway is a quick process that can be completed over the course of a day. Here are some other great benefits for concrete driveway sealing:
Increase longevity
Improve appearance and curb appeal
Add to overall value of home
Inexpensive
Reduces spalling, flaking and cracking
Protection from oil spills and other stains
Resistance to mold and mildew
The following are some negative effects that you might experience if you neglect to seal your concrete surface:
Oxidation from the sun breaks down the concrete
Chips and flakes on the top surface
Moisture that penetrates concrete can freeze and thaw repeatedly, causing it to shift and crack
Mold and mildew buildup
Lasting damage from oil spills and stains
The good news is that sealing your concrete surface is an inexpensive process! It's without a doubt one of the best investments you can make when it comes to home improvements. A quality cement sealing will keep your concrete looking new and performing well for years to come.